Now that I need a new goshinken, having run out of them, I'm going to order one of the 3rd generation type goshinkens. I'm trying them out to see how well they work, before anyone else spends their money on it.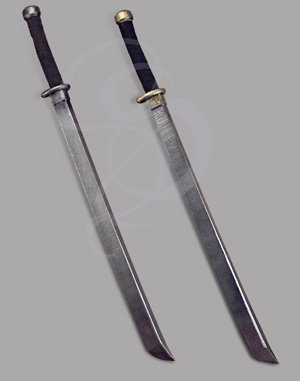 These are the almost visually realistic looking foam swords created by the SCA types (the Renaissance renactment folk) and LARPers (Live Action Role Playing). There's quite an industry growing around these incidentally, judging by the substantial variety of weapons. The picture below is just one of three katana types from Strongblade. Their site seems to show in the "LARP and Foam weapons" section: swords, daggers, armor, missiles, axes, arrows, spears, quarterstaves, even what seems like a 4- or 5-foot long bardiche.
1st gens are essentially what people built at home: thick round foam straight weapons, solid pvc core, hard plastic tsubas, and little in the manner of flexibility. They were generally really hard because of the pvc was too thick and the padding wasn't enough. We fought with these almost ten years ago. Shihan still has a pair of them -- they really last.
2nd gens are what we use now: professionally made, but more importantly more flexible inner cores, soft foam tsubas. However, they don't seem to last longer than a year with frequent use.
These 3rd gen swords use a different type of foam, and rather than a hollow pipe, have a small but solid core. The foam itself is pressed into shape rather than cut. The denser foam with what can best be call foam 'memory' will bend on impact but return to its shape shortly. The impact of these -- based on hitting myself on the arm with them -- is as hard as the 1st gens.
Shape:
The shape is closer to having an edged weapon versus the 1st and 2nd gens which were essentially round bats. With these we will know better if students are doing their swings properly because both they and we can just see it. The material can also be colored and when seen from a distance they can be mistaken for real ones. The shaped foam also works so well they can replicate the shape of many weapons, although not perfectly. Like the earlier ones, the 'katana' ones are entirely straight, not curved like a katana normaly is--just see the picture above.
Impact:
Testing out the fantasy sword ones I've seen at the Ren fair and at toy stores, hitting an arm on this can hurt, especially for folks not used to taking a hit. A strong hit will likely leave a dark bruise for days at least. For the high school class, I don't think this would be a good idea--parents would be angry if their kids came home all bruised. We might even have to start wearing gloves since hits to small bones like the fingers might hurt. Since we haven't really tested them out seriously, it is hard to tell
Price:
The first ones like the ones on Knighthawk Armory were $160-$200. The newer ones I've seen on Strongblade are $167, $87 and $67. The top price one I believe is the same one from Knighthawk. I can't tell the difference yet, but the description for the $87 one seems to have a better core and padding. There is a $55 one called the leopard but it is just a little too odd and may not be a good fighting weapon. Keep in mind most of these ones are for show not use.
I'm going to buy that $87 one and try it out.